Book online:
---
---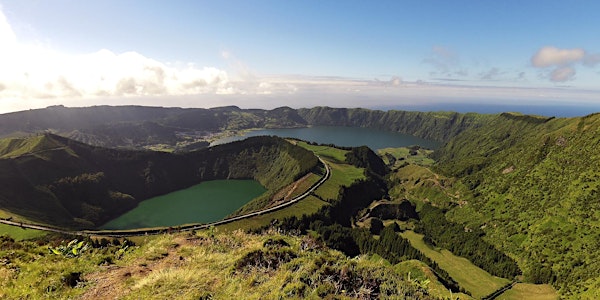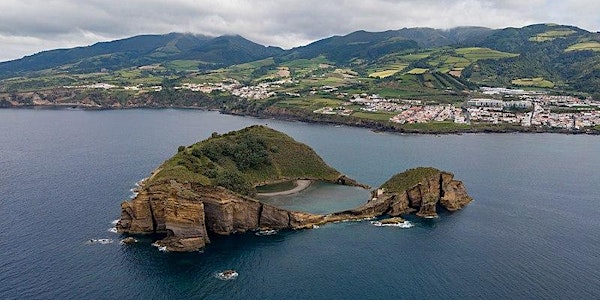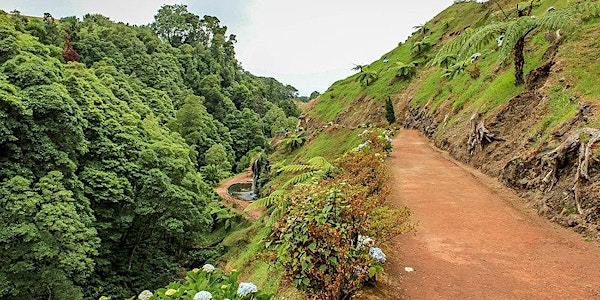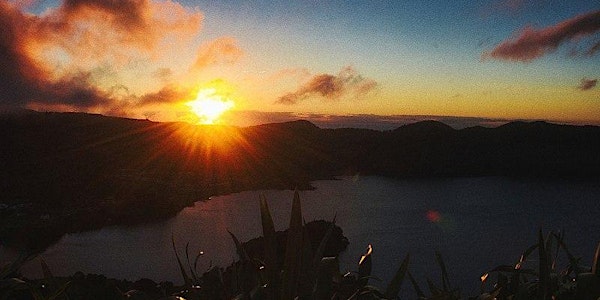 Get ready for an epic adventure in the stunning Azores – join us for hiking, exploring, and creating unforgettable memories.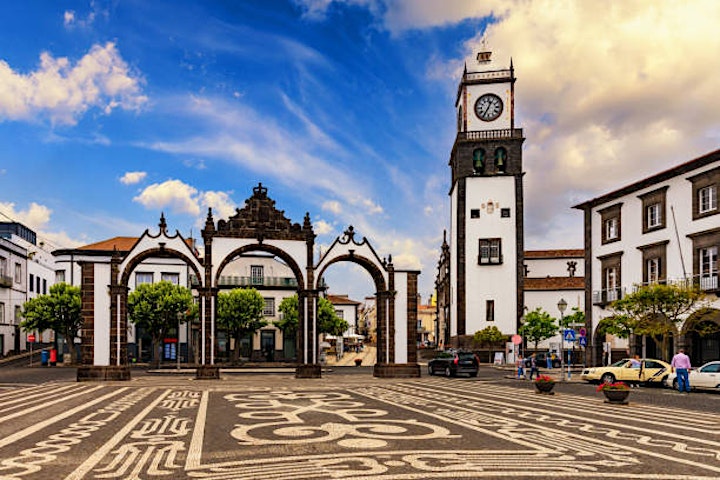 WHY GO?
Natural beauty: The Azores are known for their stunning landscapes, including lush green hills, crystal-clear lakes, cascading waterfalls, and black sand beaches.
Adventure activities: The Azores offers a range of adventure activities, such as hiking, diving, whale watching, and surfing, making it a great destination for adventure-seekers.
Wildlife: The Azores is home to a unique and diverse array of wildlife, including endemic species of birds, dolphins, and whales.
Relaxation: With its peaceful and laid-back atmosphere, the Azores is the perfect destination for those looking to escape the hustle and bustle of everyday life and relax in a tranquil and scenic environment.
Cultural heritage: The Azores has a rich cultural heritage, with a mix of Portuguese, European, and indigenous influences. Visitors can explore the region's history and traditions through its charming villages, museums, and festivals.
Overall, the Azores offers a unique blend of natural beauty, adventure, and cultural heritage, making it an ideal destination for tourists who want to experience the best of what Portugal has to offer.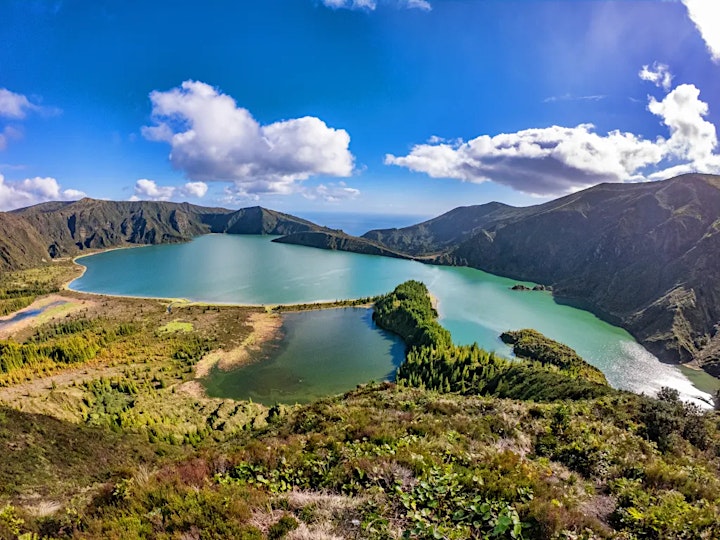 WHAT ARE SOME OF THE HIGHLIGHTS?
TRIP DETAILS
Start & End Date: Wed night, 20 September – Sun, 24 September
Meeting location & time: Meet your guide & other participants in Ponta Delgada Airport @ 9:30pm on Wed night, 20 Sep.
Finishing Location & time: Dropped off in in Ponta Delgada Airport @ 10:30am on Sun morning, June 25.
Note: If you are leaving earlier or later, please us know in the sheet that will be shared with you closer to the event date, so that we can accordingly make the relevant arrangements.
Hiking Distance:
Day 0 (No hiking): <3km – Arrive in Ponta Delgada.
Day 1: 20km – Hike Sete Cidades + whalewatching (optional)
Day 2: 16km – Lagoa do Fogo – loop from Ribeira Chã + hot water springs
Day 3 (No hiking): <3km – Coastal island drive around the eastern and north part of São Miguel island.
Day 4 (No hiking): <3km – Head back home.
Note: There is an optional paid tour available for participants only wishing to participate for 1 day of hiking and they can then skip the hike on Day 1 and meet directly for whalewatching.
Hiking Difficulty: Intermediate / advanced – hiking at relaxed pace on well-marked paths, moderate elevation, sure-footedness & good fitness required.
Price: Starting from 615 euros (before any discounts).
What is included?
Community leader & guide for for the entire duration (Guide can speak German as well). Note: English is the main language spoken in all our trips.
4 x nights shared accommodation in Ponta Delgada. Note: Additional accommodation upgrade options can be found under add-on's while purchasing the ticket.
Organizing places to eat during the trip (participants to pay themselves).
Guided hikes on Day 1 & 2
Boat trip to the incredible island of Vila Franca.
Entry to Caldeira Velha hot springs.
Road trip around Island to discover waterfalls, parks & possible whale sightings.
Transportation for the entire trip starting from the meeting location to the finishing location. Note: You will be driven around in cars / vans by your guide(s) on this trip.
Access to a dedicated whatsapp group for this event to connect with other trip mates, coordinate arrival options & stay in touch (link to whatsapp group in the ticket).
Access to a shared Google photo album where you can share & view all amazing pictures & videos from the trip (link to google photos album in the whatsapp group description).
Optional Add-On:
There is an optional paid tour available for participants only wishing to participate for 1 day of hiking and they can then skip the hike on Day 1. Please reach out for more details.
Whalewatching cruise from a boat
How to get to Azores?:
Flying is the fastest way to reach Aeroporto de Ponta Delgada
Note: Reach out directly to Urbanature Travel for flights inclusive offers.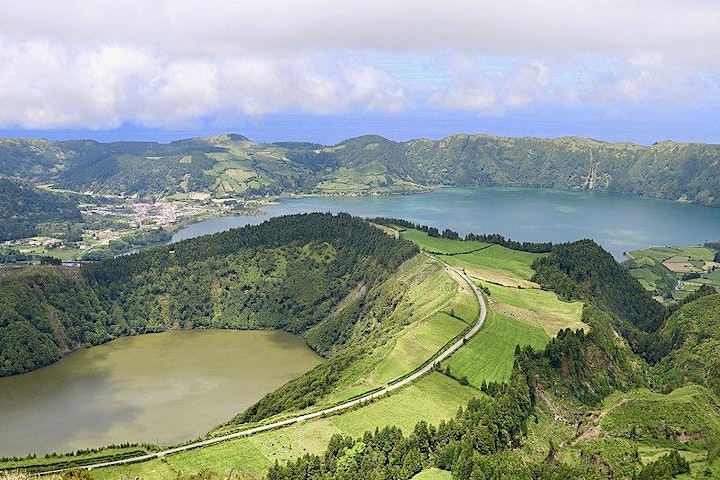 WHAT IS THE PLAN?
Day 0 – Meet & Greet: Meet the guide & other participants in Ponta Delgade airport and then proceed to accommodation. Time permitting, we do a quick intro and talk about our upcoming hikes and excursions to come. Note: We will be staying in Ponta Delgada for the next 4 nights.
Day 1 – Hiking Ceta Cidades & Miradouro da Boco do Inferno + Whalewatching: As we will have our own transport our starting time on the first morning is flexible so please take advantage of the breakfast in the accommodation before we begin. As long as we arrive at our first destination at a reasonable time to be able to take full advantage of the beautiful scenery at Ceta Cidades and Miradouro da Boco do Inferno then we are on the right track for a great first day. Don't forget we will be whale watching at Terro do Pico after our hike so if you are prone to sea sickness then best bring something to aid against it.
Day 2 – Discover Lagoa De Fogo: After another terrific breakfast let's check out Lagoa De Fogo! A beautiful lake in the centre of the island. But first let's start at the coast and work our way up to it, but why stop there!? We will be passing by this beautiful lake, being also the highest lake on the island, once a volcano that collapsed 5000 years ago we will walk around its crater walls and visit its sandy beaches before we head north to visit the beautiful waterfall at Cascato do Salto do Cabrito. A chance to swim in its cool waters before heading down to Caldeira Velha hot springs. After the springs, we head out for an evening meal to end the night. Note: The sulfuric water at the natural thermal baths will stain your swim wear so bring something old or black, I am sure our walk back to the car will be a very floaty one:)
Day 3 – Hiking Vila Franca + Roadtrip around Island: Our final hiking day will be a mix of hiking and driving, swimming and eating! Starting with a boat to an incredible island called Islet of Vila Franca, a tiny island with a volcano crater making up half of its size. Afterwards we head east to Miradouro da Ponta do Sossego, a beautiful park high up on the cliffs which also affords stunning views of the ocean and the occasional whale if we are lucky. Then a change to go to Furnas town and try their earth cooked stew. Yes its cooked in the ground! A tour including amazing views, waterfalls and a tea plantation will take us to the end of our final day on Sao Miguel. Our last evening together will im sure be full of fine food and drink.
Day 4 – Head back home: Post breakfast, we head to the airport, say our goodbye's and then heack back back home after a fantastic 4 days of hiking & exploring Azores.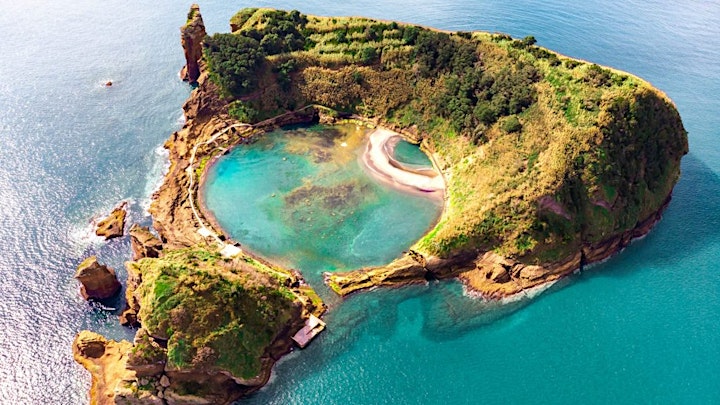 WHO IS THE COMMUNITY GUIDE FOR THIS TRIP?
Hi Urbanature Travellers,
Tom here & I will be your community guide on this trip. I am originally from the UK but have been living in Berlin for just over 15 years now. I grew up in a family that loved to go on hikes in the Scottish countryside so from early on I started to appreciate the countryside and all it's wonderful surprises. I love to be in nature and hiking for me is a way of reconnecting with life and myself. I am very much looking forward to getting out there and guiding you all in some of the most beautiful places Europe and the world has to offer!
HOW DO I CONTACT YOU FOR ANY QUERIES / CONCERNS?
WHAT ARE YOUR REVIEW'S LIKE FROM PREVIOUS TRIPS?
To go through our amazing reviews by participants, please click on the links below:
WHAT IS NEXT?
WhatsApp Group: In the ticket confirmation page, you will find a link to a whatsapp group dedicated to this event. This group is where you can connect with trip mates, coordinate arrival options & stay in touch.
Trip Briefing: You will find a link in the whatsapp group description to a detailed trip briefing document providing details on what to expect, how to prepare etc.
Google Photos Album: You will find a link in the whatsapp group description to the shared google photos album where you can upload & view all shared photos & videos from the trip.
WHAT IS YOUR CANCELLATION POLICY?
Free cancellation up to 7 full days before the start of the trip. After that, cancel up to 5 days before the trip to get a 50% refund.
If the event is cancelled on our end, you will get a full refund.
Please note that the program, as well as the venue is subject to change due to extreme weather conditions, as well as to the characteristics and size of the group.
Urbanature Travel (UNT) needs a minimum of 5 participants for this trip to take place, else we may cancel this trip.
UNT reserves the right to cancel the trip, modify the route, change the accommodation or re-schedule hikes and without prior notice.
UNT is not responsible for any loss, theft, damage or personal injury that occurs during the trip.
ABOUT THE ORGANIZER
Organized by Urbanature Travel
Welcome my fellow travellers! We are looking to provide you with options to travel to amazing places with our like-minded community guides. Our trips would involve a mash-up of urban exploring and comfortable nature trails & hikes planned & designed by us to ensure that you have a great time & have a more holistic experience.
Looking forward to seeing you on our trips!!!