---
Buy your ticket online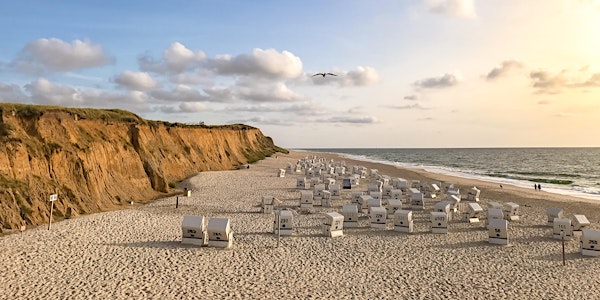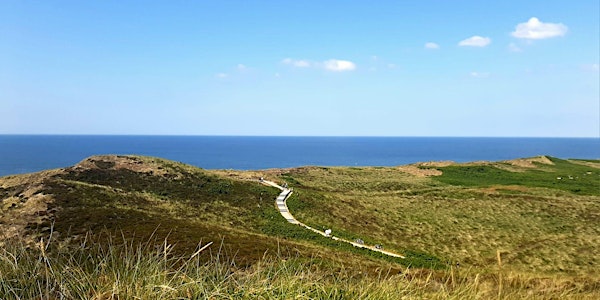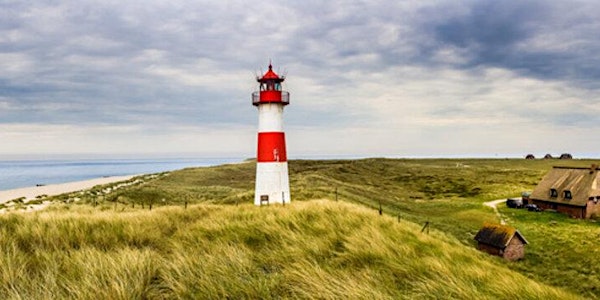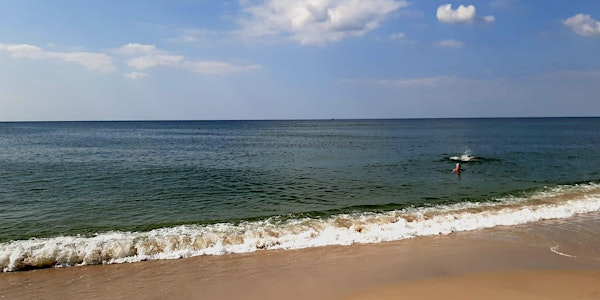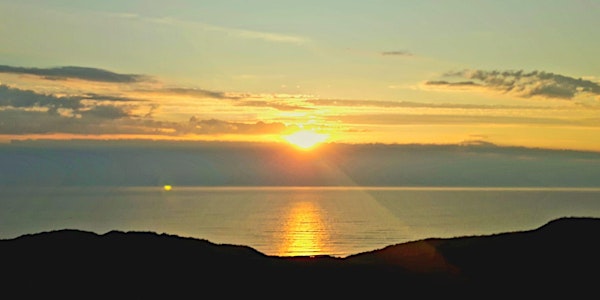 Join us for a weekend adventure to the island of Sylt – the Caribbean of the North Sea and northern most point of Germany.
WHY GO?
Sylt is an island located in the North Sea and home to the northernmost part of Germany. In Germany, Sylt has a reputation for being one of the most luxurious holiday destinations, therefore nicknamed the Caribbean of the North. However, we will focus on enjoying its breathtaking nature. As you explore the island's miles of hiking trails, you'll be treated to stunning views of the North Sea, rolling sand dunes, and breathtaking coastal scenery.
The hiking paths will lead us to historic lighthouses, traditional thatched-roof houses, and charming fishing villages. The best view of the island we will catch by trekking to the top of the highest sand dune – Uwe Dune. Along the way, we will enjoy the unique dessert landscape, that's coloured in a purple-pink hue by the Heather flowers. The path winds through marshland, along cliffs, and to the crystal-clear water of the North Sea. Here, we will take a break on the beach to surf, swim or just soak up the sun. With a bit of luck, we might catch a glimpse of seals!
WHAT ARE SOME OF THE HIGHLIGHTS?
TRIP DETAILS
Start & End Date: Friday, 15 Sep – Sunday, 17 Sep
Meeting location & time: Hamburg Central Station (Hamburg Hauptbahnhof) @ 5:00 PM on Friday.
Finishing location & time: Hamburg Central Station (Hamburg Hauptbahnhof) @ 8:00 PM on Sunday.
Hiking distance:
Day 0 (Friday – No hiking): <2km – Arrive to Sylt
Day 1: 20 km – Red Cliff Hike to the tallest sand dune of the island – Uwe Düne. Beach time at Wenningstedt Strand and visit to Sylt Main Town (Westerland).
Day 2: 12 km – Hike to the northernmost point of Germany, visit the historic List lighthouses and Ellenbogen beach.
Difficulty: Easy to Intermediate – hiking at a relaxed pace on well-marked paths and on the beach. Little to no elevation, sure-footedness & good fitness required
Price: Starting from 250 euros (before any discounts)
What is Included?
Community leader & guide for the entire duration (Guide speaks English, German & Serbian). Note: English is the main language on this trip.
2 x nights shared accommodation (Quadruple room with shared bathroom). Note: Refer to add-on's for accommodation upgrade options possible.
Public transportation for the entire trip starting from the meeting location to the finishing location (based on ticket selection).
Entry to the beaches (Kurtax)
Breakfast included for all days.
Organizing lunch & dinner places (payment to be made by participants).
Access to a dedicated whatsapp group for this event to connect with other trip mates, coordinate arrival options & stay in touch (link to whatsapp group in the ticket).
Access to a google photos album dedicated to this trip, where you can share all your amazing pics & videos.
How to get to Hamburg Central Station?
You can travel via train or bus to Hamburg Central Station. Additionally, there are direct flights to Hamburg from most European cities.
WHAT IS THE PLAN ?
Day 0 – Meet & Greet: Arrive in Hamburg Central Station, where you will be meeting your guide for this trip as well as the other participants. We will be taking a train towards Westerland (Sylt) and arriving in the evening to our accommodation.
Day 1 – Red Cliff Hike to Uwe Düne: After having breakfast in the accommodation, we will board a train to Westerland(Sylt), the main town of the island. We will hike on the Red Cliff through dune landscapes to Kampen and climb the highest dune of the island (Uwe Düne), which offers a great view of the North Sea. The path leads to the Red Cliff lighthouse and winds back along the beach, from where we will be able to see the steep coastal cliffs from another perspective. Near the Red Lighthouse, there will be a short lunch break. After about 13 km, we will finish the hike at Strand Wenningstedt, where we will take a well deserved rest on the beach for the rest of the afternoon. There will be a possibility to participate in different water sports, swim and try out stand-up paddling (SUP provided by guide 🙂).
Day 2 – Ellenbogen Hike to the Northernmost Point of Germany: Today, we will head to the North of Sylt and to one of Germany's most beautiful beaches – Ellenbogen Strand. The path on Ellenbogen offers great views of nearby marshland, rugged terrains, and the North Sea. Before arriving at one of the main monuments of Sylt – the List-Ost Lighthouse, we will pass by the historic List-West Lighthouse. Around noon, we will take a 2h break at Ellenbogen beach´to enjoy the sun and have a picnic. Afterwards, the path will lead us along the coast to the northernmost point of Germany. Hopefully we spot a few seals along the way!
WHO IS THE COMMUNITY GUIDE FOR THIS TRIP?
Hi everyone,
Marija here and I am from Serbia, but have lived in different countries in Europe, the Middle East and North America. Currently I live in the north of Germany, in the second biggest city – Hamburg. Although I have lived mostly in cities, I have always preferred to be in nature, close to mountains and the sea. I try to escape out of the city for a weekend trip or a longer hike any chance I get. My passion for hiking started in high school in my home country of Serbia, where I joined a hiking club and regularly toured mountains in the region. Since then, I have hiked mostly in western Europe, in Germany, France, Switzerland and Spain. Next on the list for me are the Himalayas. I look forward to meeting you on this trip and showing you around the Baltics!
HOW DO I CONTACT YOU FOR ANY QUERIES / CONCERNS?
WHAT ARE YOUR REVIEW'S LIKE FROM PREVIOUS TRIPS?
To go through our amazing reviews by participants, please click on the links below:
WHAT IS NEXT?
WhatsApp Group: In the ticket confirmation page, you will find a link to a whatsapp group dedicated to this event. This group is where you can connect with trip mates, coordinate arrival options & stay in touch.
Trip Briefing: You will find a link in the whatsapp group description to a detailed trip briefing document providing details on what to expect, how to prepare etc.
Google Photos Album: You will find a link in the whatsapp group description to the shared google photos album where you can upload & view all shared photos & videos from the trip.
WHAT IS YOUR CANCELLATION POLICY?
Free cancellation up to 7 full days before the start of the trip. After that, cancel up to 5 days before the trip to get a 50% refund.
If the event is cancelled on our end, you will get a full refund.
Please note that the program, as well as the venue is subject to change due to extreme weather conditions, as well as to the characteristics and size of the group.
Urbanature Travel (UNT) needs a minimum of 5 participants for this trip to take place, else we may cancel this trip.
UNT reserves the right to cancel the trip, modify the route, change the accommodation or re-schedule hikes and without prior notice.
UNT is not responsible for any loss, theft, damage or personal injury that occurs during the trip.
ABOUT THE ORGANIZER
Organized by Urbanature Travel
Welcome my fellow travellers! We are looking to provide you with options to travel to amazing places with our like-minded community guides. Our trips would involve a mash-up of urban exploring and comfortable nature trails & hikes planned & designed by us to ensure that you have a great time & have a more holistic experience.
Looking forward to seeing you on our trips!!!