Celebrate this Xmas in a place with Stunning nature, One of Europe's top-voted trail, beautiful beaches, picturesque towns & village & more
---
Buy your Ticket Online: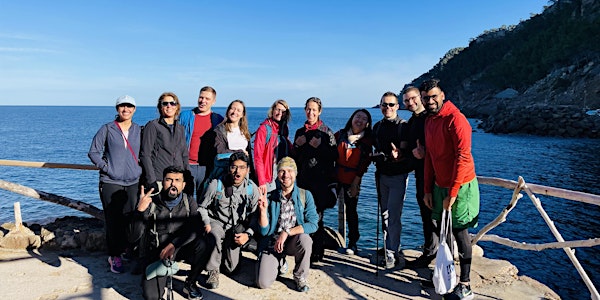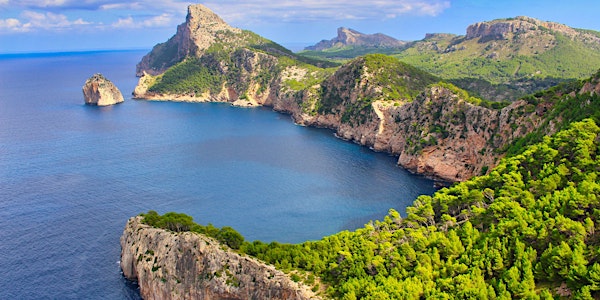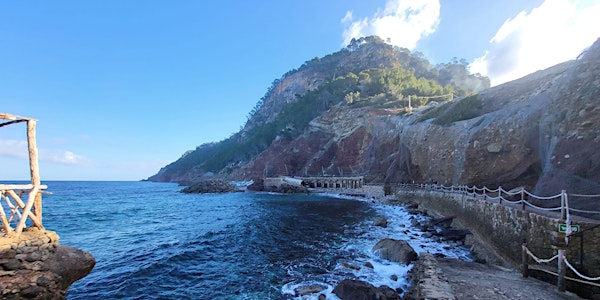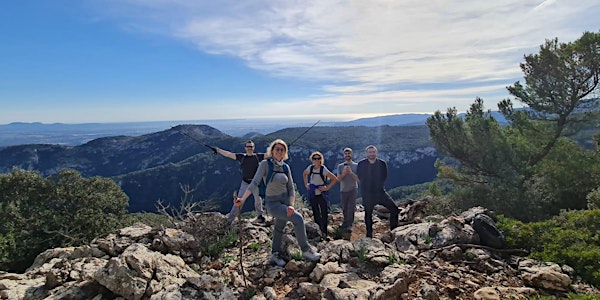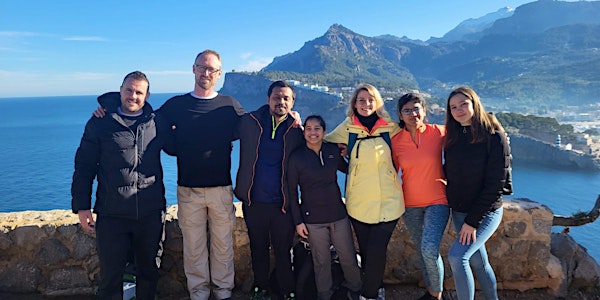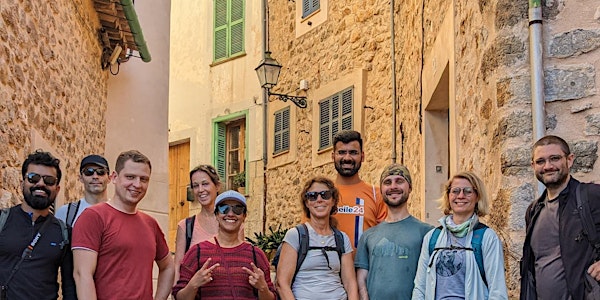 Date and time
Fri, 22 Dec 2023 10:00 PM – Wed, 27 Dec 2023 3:00 PM CET
WHY GO?
Mountains, sea and wonderful bliss moments combined with a particularly beautiful, Mediterranean natural backdrop – hiking on Mallorca has a special magic. On our hiking trip along the GR221 hiking trail, you will hike across the sunny Balearic island from Estellencs in the southwest to Port Soller in the North West.
Views onto/from the coast you cannot get enough of, the alpine-like Tramuntana mountains, the citrus fruit in the idyllic Sóller-valley & lots more. Coastal villages such as Deià and Valldemossa are also located en route as well as monasteries, extensive country estates, fincas and renowned coastal towns. Fragrant macchia, evergreen and holly oak forests providing shade, inquisitive sheep and mountain goats accompany you along with a lovely sea breeze and the scent of the many lemon and orange groves on this route of dry stone walls.
WHAT ARE SOME OF THE HIGHLIGHTS?
GR221 Trail (Dry Stone Route): This famous walk runs from south-west all the way to the north-west of Mallorca, following ancient cobbled paths through the UNESCO World Heritage Site of the Serra de Tramuntana mountain range. On this trail you hike the mountain range parallel to the coast of Mallorca and the trail alternates with sections through forests and barren rocks.
Explore Sóller: Soller and its port, Puerto de Soller, is the heart of the "Golden Valley" – a fertile stretch of land in the Serra de Tramuntana whose inhabitants have cultivated olives since ancient times and became wealthy in the 18th century cultivating citrus fruits. In 2011 Soller was granted UNESCO World Heritage status.
Explore Port de Sóller: The remote picturesque, small coastal village in north west Mallorca has become well known and popular particularly due to its historic tram, large bay with protected harbour and scenic surroundings.
Historic Tramway (Tranvía de Sóller) from Port de Soller to Sóller: A major attraction on Mallorca's west coast is the famous historic tram which connects the small town of Sóller with the Port de Sóller district on the Mediterranean coast. It is colloquially referred to as "red lightning".
Historic Train from Soller to Palma (optional): Tren de Sóller is a historic railway line that opened in 1912, which connects the island's capital, Palma de Mallorca with the small town of Sóller in the Serra de Tramuntana. A ride on the historic Tren de Sóller railway with its vintage carriages still in use, provides a fantastic opportunity to enjoy a variety of views of the fascinating mountains of the Serra de Tramuntana. Watch the video providing more details on this train journey and you'll get an idea of all that awaits you in an unforgettable experience.
Discovering picturesque towns & villages on the hiking trail: Explore the towns of Estellencs, an oasis of peace, tranquillity and tradition, Banyalbafur nestled between four smaller mountains, with farmhouses and wineries scattered around the historic town centre, Fornalutx nestled high up the Tramuntana mountain range overlooking Sóller that is Often referred to as the 'Prettiest village in Spain', the stone buildings and red tiled roofs combine with the scent of the surrounding orange and lemon groves to provide a traditional rustic charm.
Explore Palma de Mallorca: The so-called " Pearl of the Mediterranean" is now more beautiful than ever and the Mediterranean flair, which attracts thousands of tourists every year, can be felt in every corner. Some of the top attractions include La Seu – the local name for Palma Cathedral – and the 14th-century Bellver Castle.
Drach Caves (optional & time-permitting): Located in the town of Porto Cristo (east coast of Mallorca), these stunning caves extend for almost 1,200 metres in length (one of the largest in Europe), reaching a maximum depth of 25 metres below ground level. The caves conceal a large underground lake, Lake Martel, regarded as one of the biggest underground lakes in the world.
T RIP DETAILS
Start & End Date: Fri night, 22 Dec – Sun, 27 Dec
Meeting location & time:
Accommodation in Palma de Mallorca @ 10pm on Friday
Note: If you are arriving earlier or later, please let us know and we can make relevant arrangements from our end. Exact accommodation details will be shared with confirmed participants.
Finishing location & time
Palma de Mallorca Bus Station @ 2:30 pm on Wednesday
Note: If you need to leave earlier, please do let us know.
Price: Starting from €650 (before any discounts).
Hiking Distance:
Day 0 (Friday): <3km – Arrive in Palma de Mallorca.
Day 1:15 km – Estellencs to Banyalbufar with total incline of 340m & descent of 640m.
Day 2: 15 km – Port de Sóller to Sóller with total incline of 440m & total decline of 390m.
Day 3 (X'mas Day): 7 km – Xmas celebration in Soller & Exploring Palma
Day 4: 15km – Esporles to Deia with total incline of 740m & descent of 1130m.
D ay 5 (Wednesday): <3km – Head back home
Difficulty: Intermediate / Hard – hiking at relaxed pace on well-marked paths, moderate elevation, sure-footedness & good fitness required
What is included ?
Community Guide & leader for the entire trip (Speaks English).
Shared accommodation for 5 nights (mix of twin share & quadruple share). Note: For an additional fee you can be upgraded to a twin-share or single room.
All public transportation from the meeting location to the finishing location.
Tickets to Historic Tram ride from Port Soller to Sóller.
Tour of Palma old town.
Guided hike for 3 days in the GR221 trail – One of Europe's top voted trail.
Organizing lunch & dinner places.
Access to a WhatsApp Group dedicated to the hike
Access to a Google Photos album dedicated to the trip where you can share all your amazing pics & videos.
HOW TO GET TO MALLORCA?
Flying is the fastest way to reach Mallorca (Palma de Mallorca airport), with direct flights from most European cities.
If you prefer to reach Mallorca by ferry, there are two ports on the Spanish mainland. These include Denia and Valencia. Ferries take about 5 hours from Denia and 8-9 hours from Valencia. Ferries also run from Barcelona's port and takes about 7.5 hours.
Other Things of Note:
Hiking poles will need to be checked in for flights.
P lease check out some of the photos uploaded by our participants from previous Mallorca hiking trips here.
WHAT IS THE PLAN ?
Day 0 – Meet & Greet: Arrive in Mallorca (airport in Palma de Mallorca) and then catch a bus / taxi to get to accommodation in Palma de Mallorca town where you you would be meeting your guide for this trip as well as the other participants from joining from various parts of Europe.
Day 1 – Estellencs to Banyalbufar: Post breakfast, we head to the pretty village of Estellences, the starting point of our hiking trip today. Today we would be going through the terraced gardens, past olive groves and through neat country estates before finally getting to the picturesque town of Banyalbafur where we finish our hike and head to the beach to cool down before heading inland to the little town of Esporles from where we catch a bus back to Palma.
Day 2 – Port de Sóller to Sóller (X'mas Eve): Post breakfast, we checkout and head to the cute little village of Soller , the starting point of our hike today. Today we would spend some time discovering Port de Sóller and then hiking to the beautiful town of Sóller where we wrap up our hiking. There is also the option to catch the the historic tramway (optional add-on) to get to Sóller and then join the group for a short loopy hike around Soller.
Day 3 (Xmas Day 🎄) – Xmas in Soller & Historic Train Ride from Soller to Palma: Today we relax and celebrate Xmas in Soller with an optional X'mas lunch and then head to Palma in the historic train (if running) where we continue the festivities in the beach and also explore this beautiful town.
Day 4 – Esporles to Deià town: Today we would be hiking in fairly dense oak forest with views along the way being quite pretty with possibly a lunch break in the beautiful town of Valldemossa and then making our way towards the coastal village of Deia (involving a steeply descent) where we finish our hiking trip. Once we have explored this beautiful coastal village, we head to the picturesque coastal village of Port de Sóller (using public transport) where we would be staying for the night in a hotel just 5 minutes walk from a charming beach.
Day 5 – Exploring Palma de Mallorca: Post checkout today, we would be heading to the beautiful Drach Caves (using public transport) and once we are done, we would be heading back to the airport and finish this awesome trip offering a sample of what Mallorca has to offer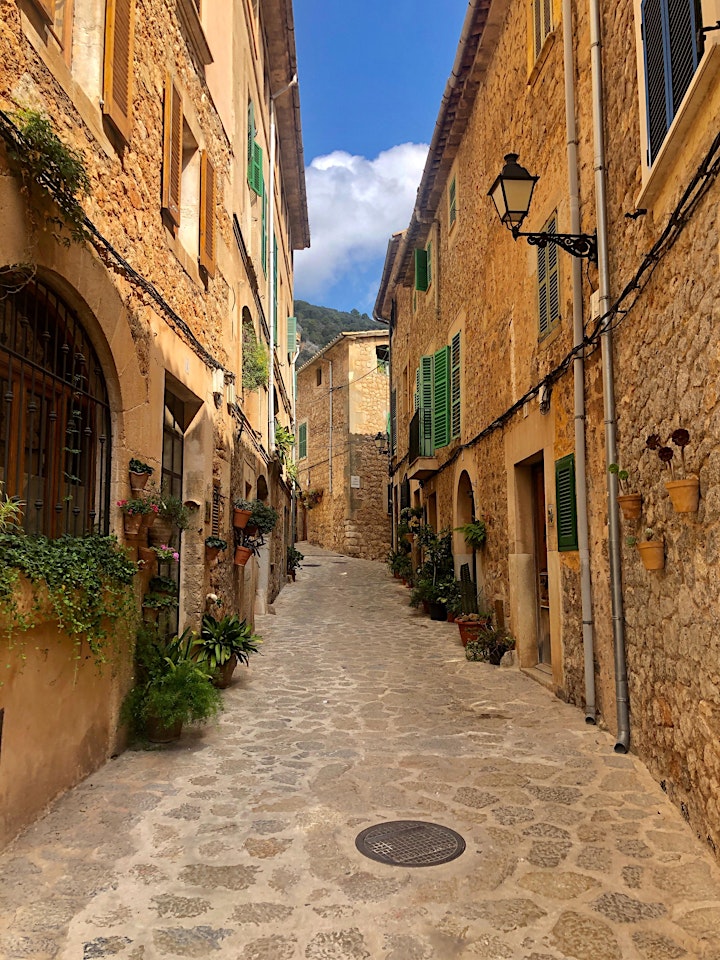 Fun Facts:
The dry stone building technique has been employed since ancient times in Mallorca. The 'margers' were the local dry stone wallers and had extensive knowledge and skills. Footpaths, roads, walls, terraces for agricultural land and canals for mountain streams have been created using dry stone walling in the Serra de Tramuntana that you will notice in the GR221 trail.
One of the stunning features of Mallorca is the amazingly clear sea with the water being very blue and clear. This phenomenon is by algae on the seabed. Due to these organisms, Mallorca has some of the clearest seawater in the world.
Mallorca on average enjoys more than 300 days of sunshine.
Check out some reviews left by our participants: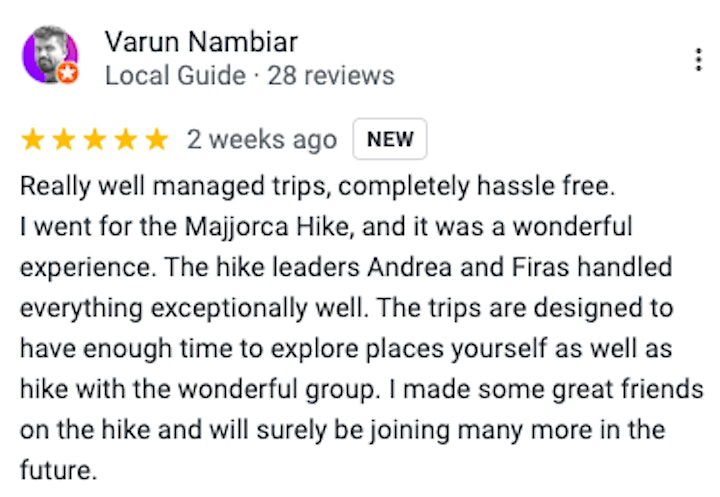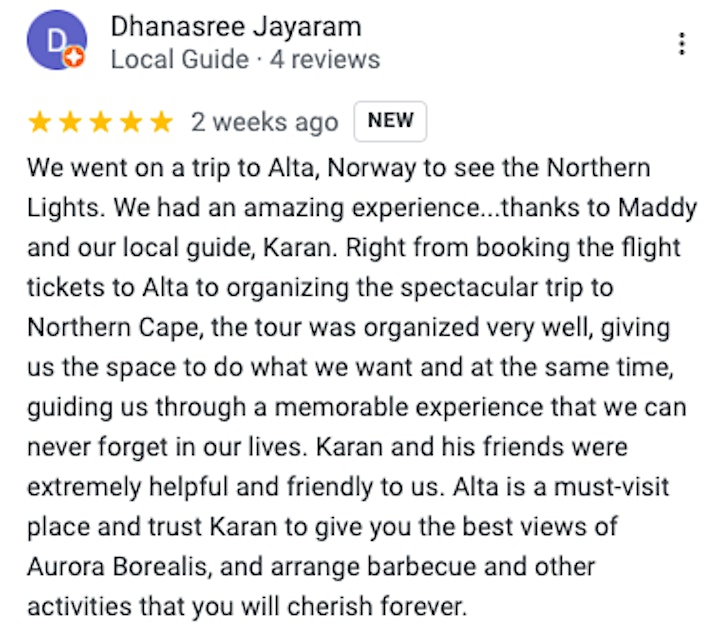 HOW DO I CONTACT YOU FOR ANY QUERIES / CONCERNS?
WHAT ARE YOUR REVIEW'S LIKE FROM PREVIOUS TRIPS?
To go through our amazing reviews by participants, please click on the links below:
WHAT IS NEXT?
WhatsApp Group: In the ticket confirmation page, you will find a link to a whatsapp group dedicated to this event. This group is where you can connect with trip mates, coordinate arrival options & stay in touch.
Trip Briefing: You will find a link in the whatsapp group description to a detailed trip briefing document providing details on what to expect, how to prepare etc.
Google Photos Album: You will find a link in the whatsapp group description to the shared google photos album where you can upload & view all shared photos & videos from the trip.
WHAT IS YOUR CANCELLATION POLICY?
Free cancellation up to 7 full days before the start of the trip. After that, cancel up to 5 days before the trip to get a 50% refund.
If the event is cancelled on our end, you will get a full refund.
Please note that the program, as well as the venue is subject to change due to extreme weather conditions, as well as to the characteristics and size of the group.
Urbanature Travel (UNT) needs a minimum of 5 participants for this trip to take place, else we may cancel this trip.
UNT reserves the right to cancel the trip, modify the route, change the accommodation or re-schedule hikes and without prior notice.
UNT is not responsible for any loss, theft, damage or personal injury that occurs during the trip.
ABOUT THE ORGANIZER
Organized by Urbanature Travel
Welcome my fellow travellers! We are looking to provide you with options to travel to amazing places with our like-minded community guides. Our trips would involve a mash-up of urban exploring and comfortable nature trails & hikes planned & designed by us to ensure that you have a great time & have a more holistic experience.
Looking forward to seeing you on our trips!!!